If you are looking for a unique and creative experience in the Cape Winelands, look no further than Clay Café. This hidden gem is nestled in the vineyards of Groot Parys Wine Estate in Paarl and offers a charming escape for families and friends to enjoy life in the slow lane.
A Creative Escape with Stunning Views
The café has recently moved to a beautifully restored 1709 manor house that spills out onto wide lawns with trampolines and child-friendly play areas. The views of Paarl Rock and the Drakenstein Mountains are breathtaking and provide the perfect backdrop for a creative afternoon of ceramic painting.
A Foodie Destination with OG Roots
The Clay Café family, along with culinary consultant Tamsin Snyman, have created a new style of food and service that suits the Paarl and Winelands clientele. The menu offers easy café food, good coffee, and delectable treats that will satisfy any foodie's palate. And with Tamsin's culinary expertise and OG roots (her late mother was the author and culinary guru, Lannice Snyman), you know you're in for a treat.
Mixed Reviews
While the café has received mixed reviews regarding the food and service, there's no denying that the venue is absolutely breathtaking and very child-friendly. Whether you're painting ceramics with the family, catching up with friends over coffee, or simply taking in the view, Clay Café is a must-visit destination in the Cape Winelands.
Clay Cape Winelands Café Photos: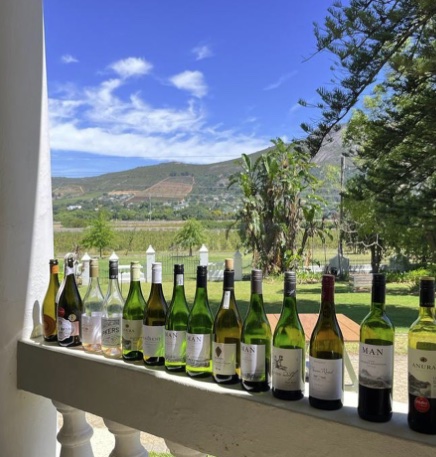 Contact Information
Working Time: Monday – Sunday, 9am – 5pm
Address: Groot Parys Wine Estate, Paarl, Cape Winelands
Phone Number: 064 656-6165
Website: www.claycafe.co.za
Clay Cape Winelands Café Reviews:
I was drawn to the natural beauty surrounding Clay Café. The views of Paarl Rock and the Drakenstein Mountains were awe-inspiring, and the wide lawns provided ample space for outdoor exploration. However, I was disappointed with the waiting times for food and drinks, which detracted from the overall experience. Additionally, I would have appreciated more information on the café's sustainability practices and efforts to minimize their environmental impact. With some enhancements in these areas, Clay Café could become a truly eco-conscious destination for nature lovers.

José García
I have explored many gems in the Mother City, and Clay Café is definitely one of them. The beautifully restored 1709 manor house, nestled in the vineyards of Groot Parys Wine Estate, offers a unique and enchanting experience. The creative escape of ceramic painting combined with the stunning views of Paarl Rock and the Drakenstein Mountains is a truly captivating experience. The food was scrumptious, and the atmosphere was warm and inviting. I wholeheartedly recommend Clay Café to locals and visitors alike seeking a one-of-a-kind adventure in the Cape Winelands.

William Wilson
I was delighted by my experience at Clay Café. The menu was diverse, featuring easy café food, good coffee, and delectable treats that catered to a range of dietary preferences. The food was flavorful, and the ingredients were clearly fresh and thoughtfully sourced. The ceramic painting activity was a fantastic way to engage my creative side, and the breathtaking views of the surrounding mountains and vineyards provided an inspiring backdrop. I cannot wait to return to this charming venue and explore more of the culinary delights they have to offer!

Javier Martínez
Wow! Clay Café is an incredible destination for fitness enthusiasts like myself. The wide lawns and child-friendly play areas offered ample space for outdoor activities, and the views of the mountains inspired me to stay active and connected to nature. The menu catered to health-conscious diners, with plenty of nutritious options that fueled me throughout the day. I loved the balance of creativity and wellness, as I could unwind and express my artistic side through ceramic painting after an invigorating workout. Highly recommended for those seeking a healthy, energizing, and inspiring experience!

Isabella Patel
I had high expectations for my visit to Clay Café. While the venue and views were indeed breathtaking, I found the service and staff interactions to be somewhat lacking. Our food took longer than expected to arrive, and communication with the staff was not as smooth as it could have been. Nevertheless, the creative atmosphere and the beauty of the location still made for an enjoyable experience. With some improvements in service, Clay Café has the potential to become a true cultural treasure in the Cape Winelands.

Olivia Brown
I must admit I was truly impressed by the food offerings at Clay Café. The menu, curated with the help of culinary consultant Tamsin Snyman, was both delicious and well-balanced, providing a delightful combination of flavors and health benefits. I particularly enjoyed the fresh ingredients and the wholesome meal options. The picturesque setting, with breathtaking views of Paarl Rock and the Drakenstein Mountains, added a relaxing touch that made my visit even more enjoyable. Clay Café is a must-visit for anyone looking for a nourishing and creative escape in the Cape Winelands!

Thomas Johnson