Stepping into Clay Café Paarl, one is greeted by an unparalleled melding of natural beauty and elegant architecture. Nestled within the sweeping vineyards of the Groot Parys Wine Estate, the venue commands awe-inspiring views of the Drakenstein mountain range, Paarl Rock, and the historically significant Paarl Monument. The atmosphere is one of serene pastoral elegance, aided by the Cape Dutch-inspired architecture of the 1709 Manor House, which has been meticulously restored over nine months. The work of skilled artisans has returned this grand building to its original splendor, captivating guests with its gravitational energy and innate elegance.
Paarl is often regarded as a coveted escape from the frenetic pace of everyday life, and Clay Café serves as the epitome of this sanctuary. The café layout is airy and expansive, with neutral colors that subtly defer attention to the art pieces waiting to be transformed by your creativity. This space was not a hasty decision; it was chosen in 2021 after a mere few minutes of reveling in the awe-striking natural scenery.
Beyond the canvas of nature and architecture, Clay Café is also a platform for an authentic, familial experience. What elevates this enterprise from a mere eatery to an institution of collective experience is its dedication to fostering relationships. Whether it's families seeking quality time through artistic endeavors or friends gathering to celebrate a slow life, Clay Café seamlessly integrates these aspects, enriching each visit with a sense of connection and purpose.
The Culinary Palette: A Blend of Tradition and Innovation at Clay Café Paarl
The menu at Clay Café is nothing short of a gustatory masterpiece, courtesy of culinary consultant Tamsin Snyman. Her culinary proficiency, sharpened by her role as the academy chair for South and East Africa on the World's 50 Best Restaurants Academy, adds an unmistakable touch of genius to every dish. From homemade mayos and pestos to a not-to-be-missed butter bean hummus, the offerings are designed to please a discerning palate. Their ethos can be summed up by Snyman's own words, "Food is not the focus, but it still needs to be the best."
The ingredients are locally sourced and seasonal, adhering to a philosophy of sustainability and quality. They offer an extensive range, covering breakfasts, burgers, pizzas, and salads, while also accommodating dietary needs like vegan, vegetarian, and gluten-free options. The beverages are equally eclectic, featuring fabulous milkshakes and freshly-pressed juices. While the food is an entity in itself, it becomes a part of a larger experience when coupled with ceramic painting. The Clay Café's much-loved format allows guests to indulge in casual, easy-eating food and drinks while diving into their creative endeavors.
However, the café's culinary aspirations don't end with the menu. Future plans involve opening an artisanal food retail space and a boutique wine shop, further solidifying its position as a foodie destination. They also plan to convert the 316-year-old cellar into a function space, promising a holistic experience once complete.
Clay, Community, and Creativity: The Business Model of Clay Café
Clay Café Paarl stands out not just as a place of leisure but also as a business model worth admiration. Its interactive ceramic painting session, where one can choose from 180 pre-made ceramic items to paint and decorate, bridges the gap between art and enterprise. The business model is highly customer-centric, focusing on client engagement and personalized experiences, from the ceramic painting to the culinary offerings.
The community and social impact of Clay Café are also commendable. Their initiatives with Imizamo Yethu and other community support programs reflect an ethical backbone that transcends mere profit. The business understands the community's role in its success, making it a mutually beneficial relationship. They have been able to produce over 35,000 meals during the COVID pandemic and continue to support various drives to uplift those in need.
The pricing model is also transparent and fair, offering a studio fee that includes paints, tools, and the firing and glazing process. The cost-effective pricing and availability of different packages make it accessible for various customer segments, from solo visitors to larger groups.
Clay Café Paarl Winelands Photos: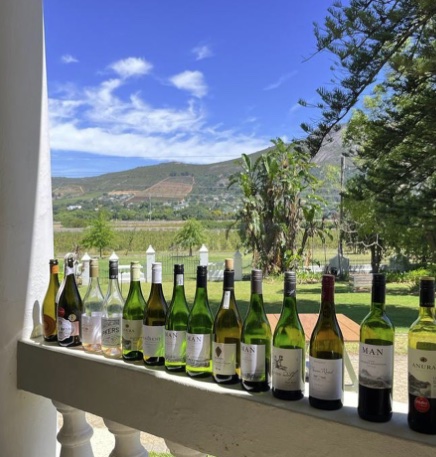 Contact Information for Clay Café Paarl
Working Time: Monday – Sunday, 9am – 5pm
Address: Groot Parys Wine Estate, Paarl, Cape Winelands
Phone Number: 064 656-6165
Website: www.claycafe.co.za
Clay Café Paarl Reviews:
I was drawn to the natural beauty surrounding Clay Café. The views of Paarl Rock and the Drakenstein Mountains were awe-inspiring, and the wide lawns provided ample space for outdoor exploration. However, I was disappointed with the waiting times for food and drinks, which detracted from the overall experience. Additionally, I would have appreciated more information on the café's sustainability practices and efforts to minimize their environmental impact. With some enhancements in these areas, Clay Café could become a truly eco-conscious destination for nature lovers.

José García
I have explored many gems in the Mother City, and Clay Café is definitely one of them. The beautifully restored 1709 manor house, nestled in the vineyards of Groot Parys Wine Estate, offers a unique and enchanting experience. The creative escape of ceramic painting combined with the stunning views of Paarl Rock and the Drakenstein Mountains is a truly captivating experience. The food was scrumptious, and the atmosphere was warm and inviting. I wholeheartedly recommend Clay Café to locals and visitors alike seeking a one-of-a-kind adventure in the Cape Winelands.

William Wilson
I was delighted by my experience at Clay Café. The menu was diverse, featuring easy café food, good coffee, and delectable treats that catered to a range of dietary preferences. The food was flavorful, and the ingredients were clearly fresh and thoughtfully sourced. The ceramic painting activity was a fantastic way to engage my creative side, and the breathtaking views of the surrounding mountains and vineyards provided an inspiring backdrop. I cannot wait to return to this charming venue and explore more of the culinary delights they have to offer!

Javier Martínez
Wow! Clay Café is an incredible destination for fitness enthusiasts like myself. The wide lawns and child-friendly play areas offered ample space for outdoor activities, and the views of the mountains inspired me to stay active and connected to nature. The menu catered to health-conscious diners, with plenty of nutritious options that fueled me throughout the day. I loved the balance of creativity and wellness, as I could unwind and express my artistic side through ceramic painting after an invigorating workout. Highly recommended for those seeking a healthy, energizing, and inspiring experience!

Isabella Patel
I had high expectations for my visit to Clay Café. While the venue and views were indeed breathtaking, I found the service and staff interactions to be somewhat lacking. Our food took longer than expected to arrive, and communication with the staff was not as smooth as it could have been. Nevertheless, the creative atmosphere and the beauty of the location still made for an enjoyable experience. With some improvements in service, Clay Café has the potential to become a true cultural treasure in the Cape Winelands.

Olivia Brown
I must admit I was truly impressed by the food offerings at Clay Café. The menu, curated with the help of culinary consultant Tamsin Snyman, was both delicious and well-balanced, providing a delightful combination of flavors and health benefits. I particularly enjoyed the fresh ingredients and the wholesome meal options. The picturesque setting, with breathtaking views of Paarl Rock and the Drakenstein Mountains, added a relaxing touch that made my visit even more enjoyable. Clay Café is a must-visit for anyone looking for a nourishing and creative escape in the Cape Winelands!

Thomas Johnson